Get your lawn cut for as little as €15*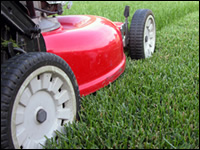 Organise getting your lawn cut on a one off or weekly/monthly basis.
We will:
Cut and edge the lawn
Remove and compost the clippings
Sweep paths and drive around lawn
Simply submit your details in the form opposite and we will be in touch to discuss the level of service you require. We can organise to cut your lawn weekly, bi-weekly, monthly, whatever is best for you.
Alternatively, for further details please contact,
David Brennan

086 163 8946

Alternatively, email us at:
*depending on size of lawn.